Get Clean, Purified Water in Seconds & Drink With Peace of Mind
Auron is a self-cleaning UV bottle that gives you clean, fresh water throughout the day and eliminates 99.99% of bacteria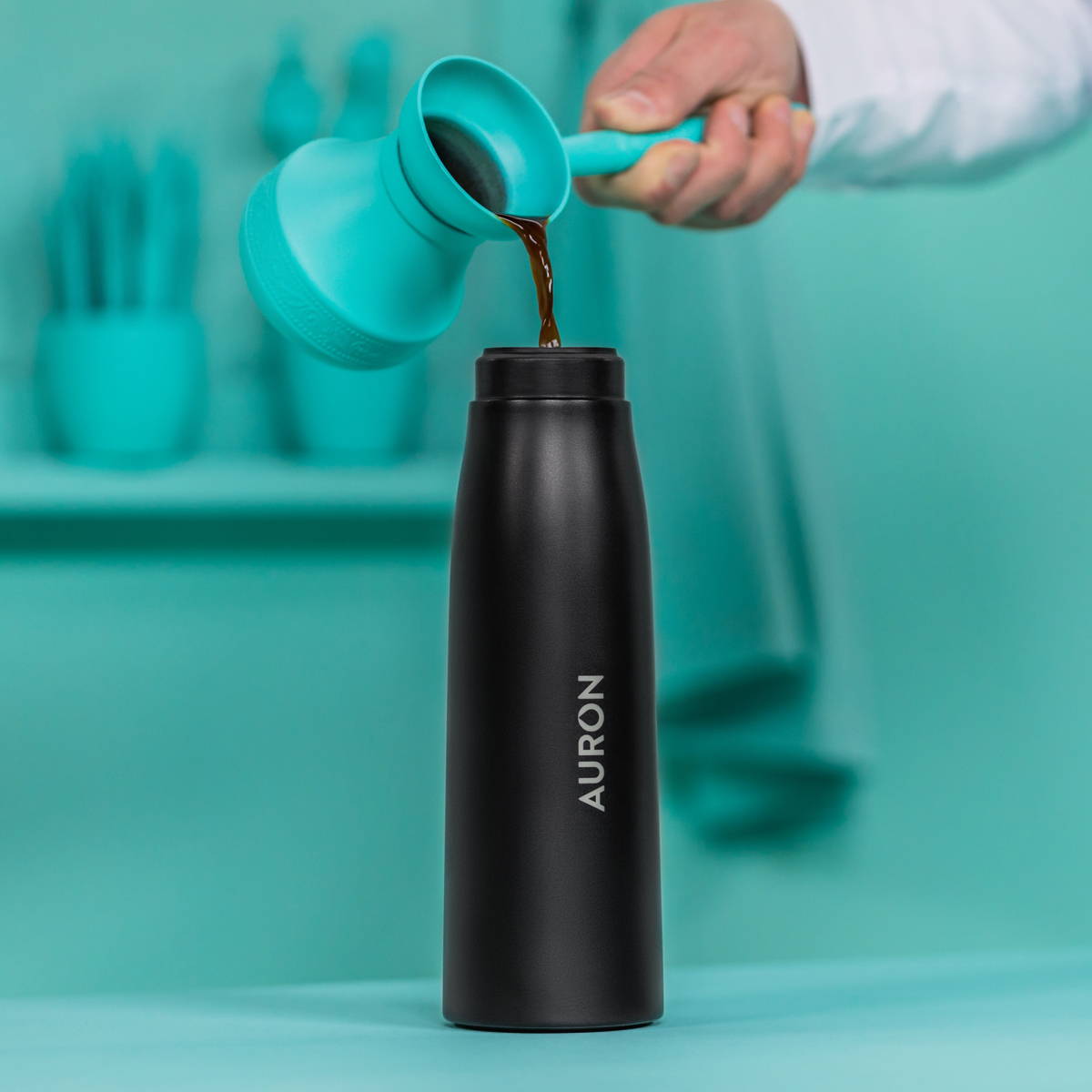 Introducing the Auron Bottle
Using the power of natural UV-C light purification, Auron neutralizes 99.9% of bacteria such as E. coli and Salmonella without filters or chemicals, turning water from any source into pure goodness.
Clean the public fountain water at the gym, tap water in foreign countries, or even river water when camping. Just fill it up, touch the lid, and enjoy the cleanest, crispest, thirst-quenching-est water that nature has to offer.
Vacuum Sealed Anti-Spill Lid
In-Built UV-C Light Purification (280 NM)
See Why Everyone Drinks Better With Auron

High-quality & Comfortable to hold!

My tap water at home tastes awful but Auron finally makes drinking water enjoyable for me. I don't have to worry about bacteria in my water anymore or have that nasty metallic taste in my mouth ever again. The UV-C light does a great job at keeping the inside of my bottle clean.

My new favorite water bottle!
Absolutely love Auron Bottle! I always forget to drink water but this smart bottle has kept me in check! Never spilled on me either. Love the sleek design and it is definitely my go-to bottle nowadays. Haven't had to think about buying plastic water bottles since owning Auron.

Bottle feels high-quality and it is comfortable to hold. The double vacuum insulation keeps my coffee hot and my drinks cold for an extended period of time. Best part is, I don't need to clean my bottle on a daily basis anymore. It also doesn't smell after long-term use like my old bottles!
NOT ALL UV IS RANKED EQUAL
The Fastest, Most Efficient Purification Method.
Researchers found that UV light wavelengths of 260 - 280 NM was the most optimal for bacteria disinfection.(1)
In just 60 seconds, Auron produces a UV "zap" of 280 NM that destroys bacteria DNA and prevents them from re-growing in the water(2).
Automated Self-Cleaning All Day Long
Tired of bacteria growing in your bottles? Auron cleans itself every 2 hours with UV-C light. This means you can fill it up again and again without worrying about dirty water or weird smells.
No Expensive Filters or Questionable Chemicals.
Auron cleans without filters or chemicals, just pure technology that turns water from any source into goodness.

Just fill it up, touch the lid, and enjoy the cleanest, crispest, thirst-quenching-est water that nature has to offer.
Super-Simple & Easy to Use.

"Auron's UV-C light purification system bathes every inch of the interior of the bottle in UV light, killing all microbial life"

"A health-focused hydration accessory for consumers to keep H2O or their favorite beverage on hand at all times hygienic"
"Auron is a water bottle that is going to change the way in which we consume water"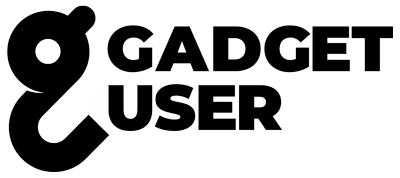 "Allows users to consume water from any source – while camping, at the gym, or while exploring other countries"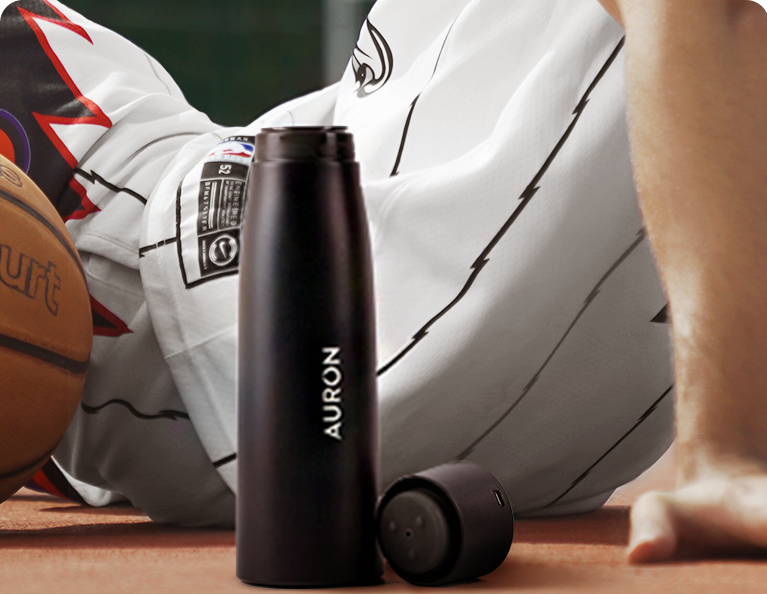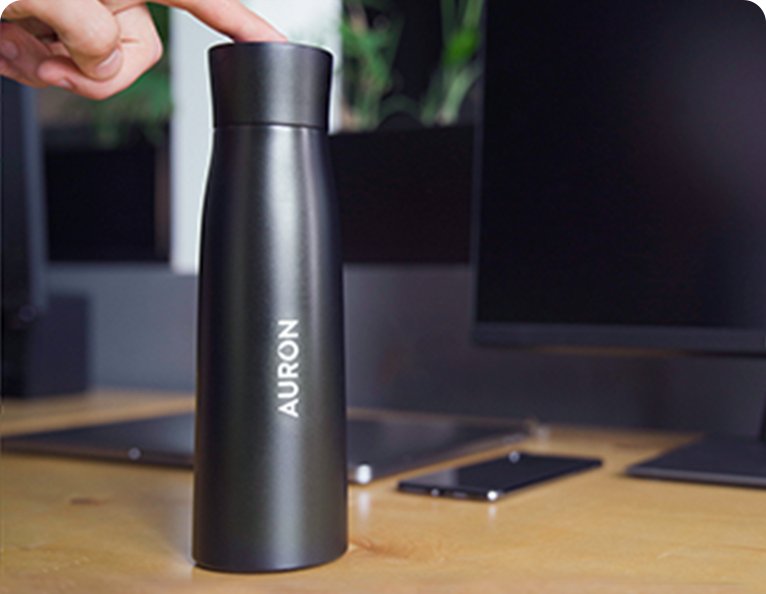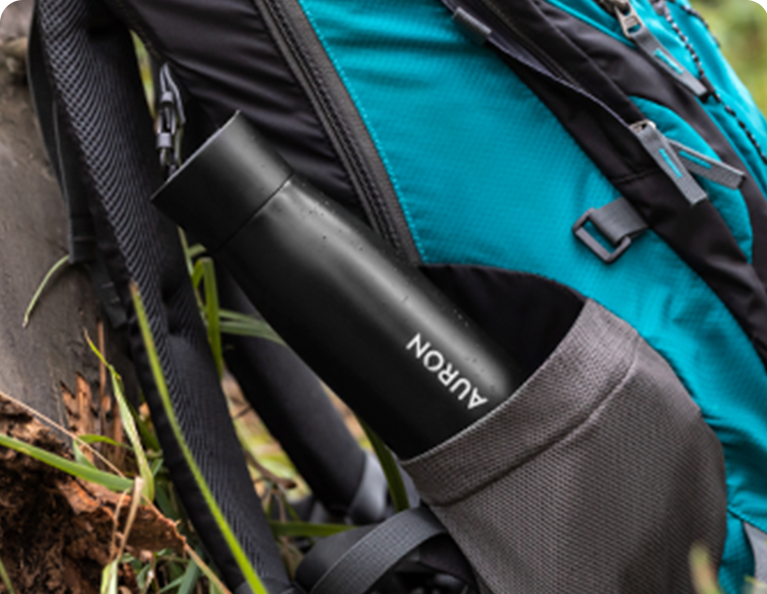 TRAVEL / OUTDOORS / HIKING
Ready to Drink Clean, Purified Water Throughout the Day?
Upgrade your water-quality & build good drinking habits with Auron today.
Get FREE Shipping & 1,825 Days Warranty
Upgrade your source of life-sustaining water with Free Shipping right to your doorstep and a 5 year warranty that's the best in the industry!