SELF-CLEANING WATER PURIFYING UV-C SMART BOTTLE
Purify your water effortlessly with Auron and eliminate 99.9% of bacteria to get clean, fresh water every day.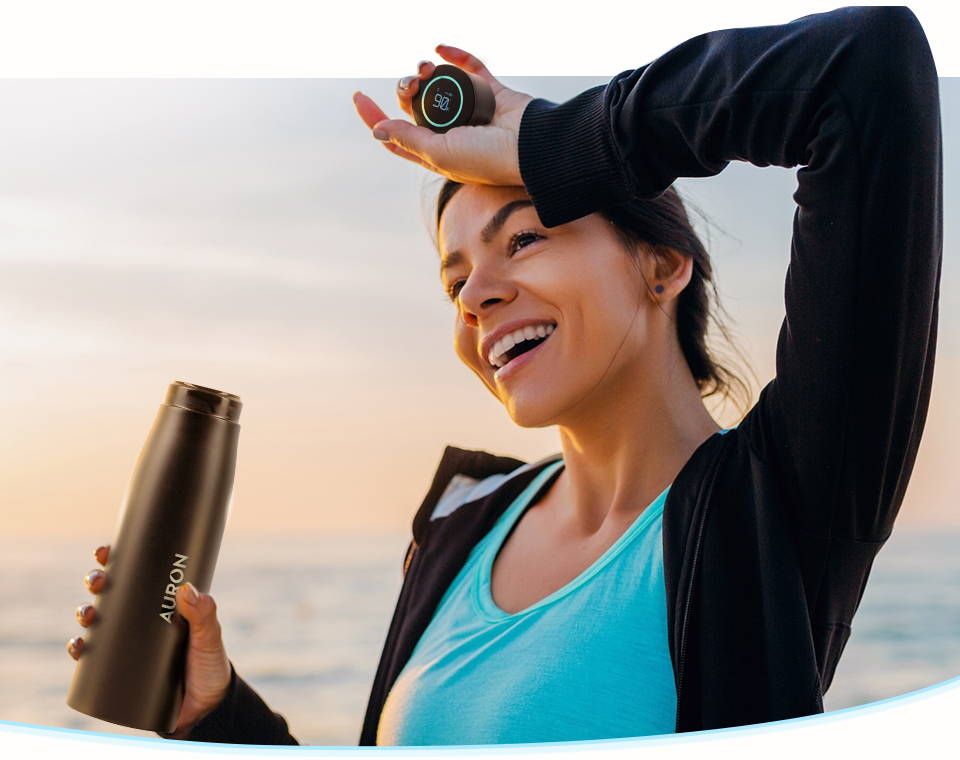 SELF-CLEANING WATER PURIFYING UV-C SMART BOTTLE
Purify your water effortlessly with Auron using the power of UV-C and eliminate 99.9% of bacteria to get clean, fresh water every day.
INTRODUCING THE AURON BOTTLE
Tired of paying for bottled water? The planet sure is. With 1 million plastic bottles purchased every minute, Mother Nature is paying the price.

Now, there's a better way to enjoy pure, delicious water without damaging the environment or your wallet.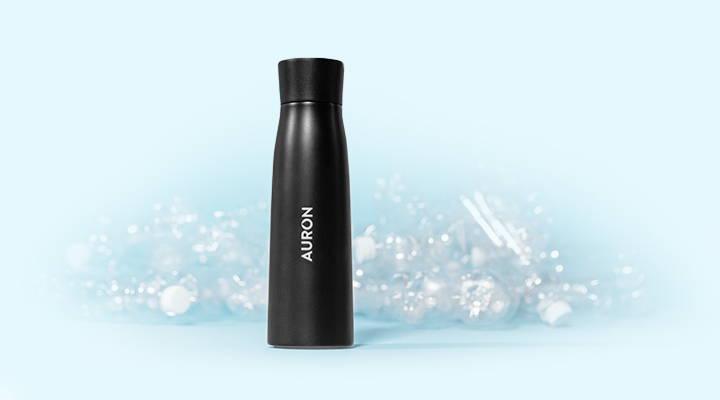 Drink Smart with 99.99%
Water Purification
Auron isn't just a self-cleaning bottle, it's also a jam-packed smart bottle that will make your daily life easier. Explore its features today!

99.999% Pure Water in 60 Seconds
Self-Cleaning and Odor-Free



24 Hours Cold/12 Hours Hot


Built-in Temperature Display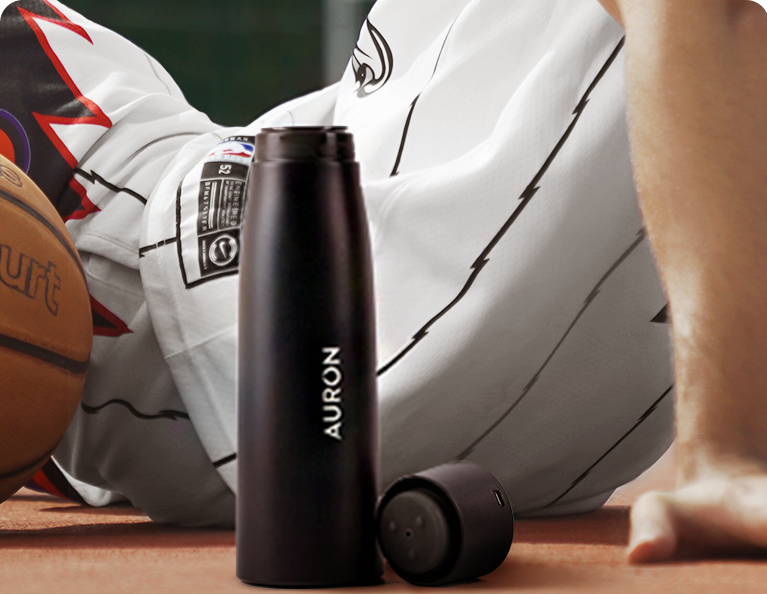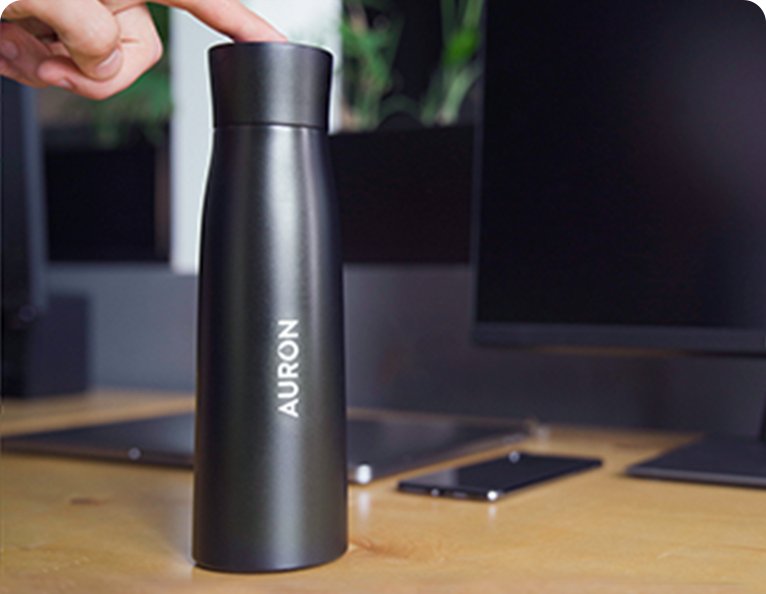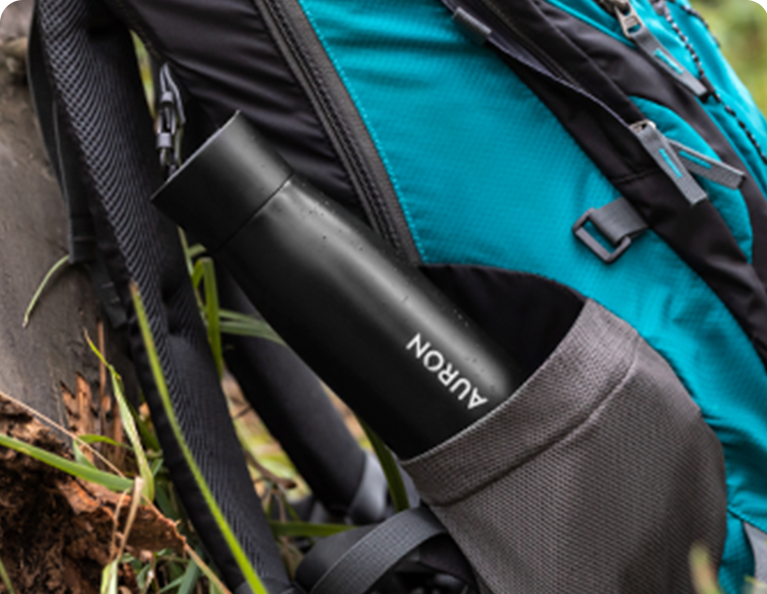 Auron cleans without filters or chemicals, turning water from any source into pure goodness.
Clean the public fountain water at the gym, tap water in foreign countries, or even river water when camping.
Just fill it up, touch the lid, and enjoy the cleanest, crispest, thirst-quenching-est water that nature has to offer.
When you drink with Auron, you're only 60 seconds away from the purest, most delicious clean water in the universe.
Auron washes its interior and contents with UV-C ultraviolet light at 280nm, which is strong enough to kill germs, viruses and bacteria. Don't believe it? Hospitals have already been using it to purify air and water for years!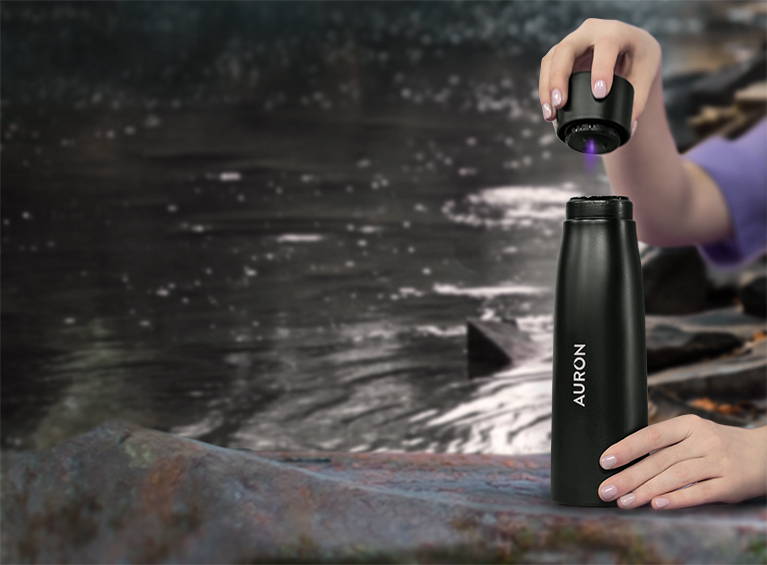 Ever wonder why your water gets a stale taste after it's been sitting in the bottle for a while? Microbes like bacteria can enter when you drink when you leave the bottle open, making your water taste funky over time.
Auron's auto-cleaning cycle keeps your water cool and fresh for days...months...years — however long you leave it in the bottle. Every 2 hours, Auron's 60-second cleansing cycle will activate itself, ensuring that your water and your bottle remain sterile at all times. Never worry about what's creeping into your water again!
Built-in Temperature Display
Tired of burning your tongue after a sip of hot coffee? Or not getting the cool hydration from your energy drink after an intense workout?
Auron has a built-in temperature display so you know the exact temperature of your water. Even more, it works with other beverages as well! Just turn your bottle upside down and let your drink touch the cap to get its current temperature.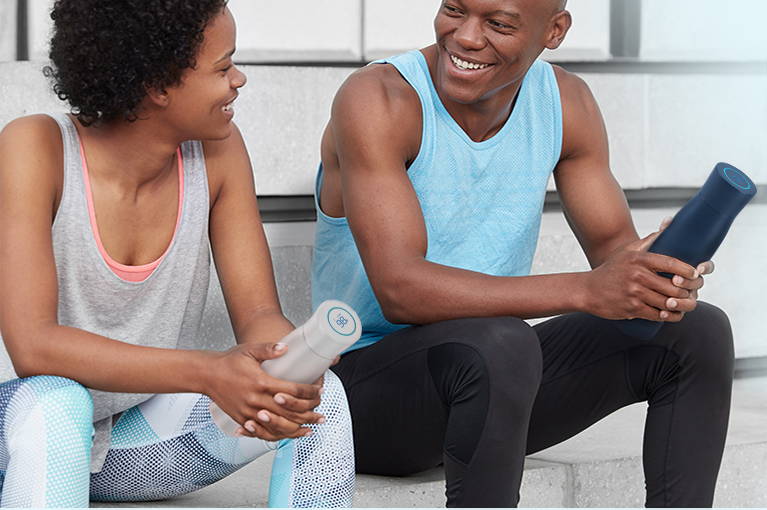 Ever been so busy that you forget about staying hydrated? You're not alone. More than half of adults in the United States don't drink enough water.
Auron will be your personal health assistant that makes sure you stay hydrated throughout the day. Just switch on your smart LED water reminder by holding the screen for 3 seconds and your bottle's display will light up for 60 seconds when it's time for you to take a sip.
Auron may have many advanced features, but it's also very simple to use! Everything can be activated on the water cap's touchscreen.
Give the lid a touch to start the purification process, or hold the screen for 3 seconds to turn on the water reminder. It will light up when activated, so you'll know when it's working!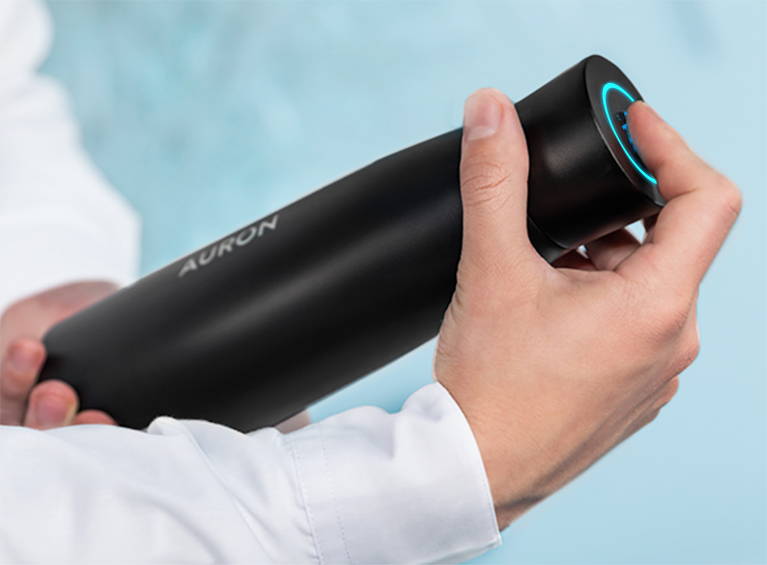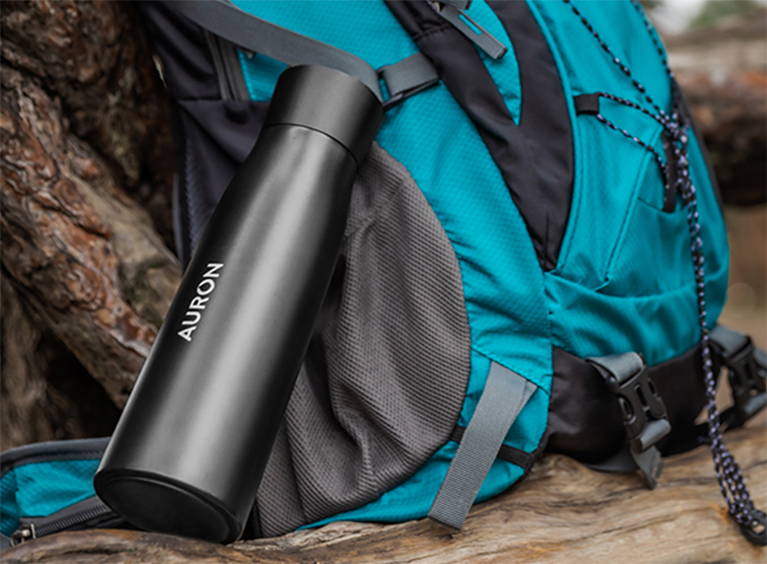 24 Hours Cold & 12 Hours Hot
Auron's double-walled and vacuum insulation keeps your beverages icy cold or steamy hot - whatever temperature you'd like it to be.
Its double-walled insulation and heat transfer prevention also makes condensation impossible, so you won't have to worry about the exterior of the bottle getting your bag or electronics wet.
Not to mention, the air-tight seal design stops spills and prevents leaks. When Auron is closed, nothing gets out. And we mean nothing.
Say goodbye to bottle dents and scratches. Auron is sleek, sexy, and super strong. Made with high-grade 304 stainless steel, Auron is ready for whatever life has in store.
Resistant to rust and corrosion, Auron will stay sparkling new, free from rust and flaking in any weather and humidity conditions. Go ahead and leave it in your bag for a year until your next big trip. Auron will be ready and waiting in mint condition.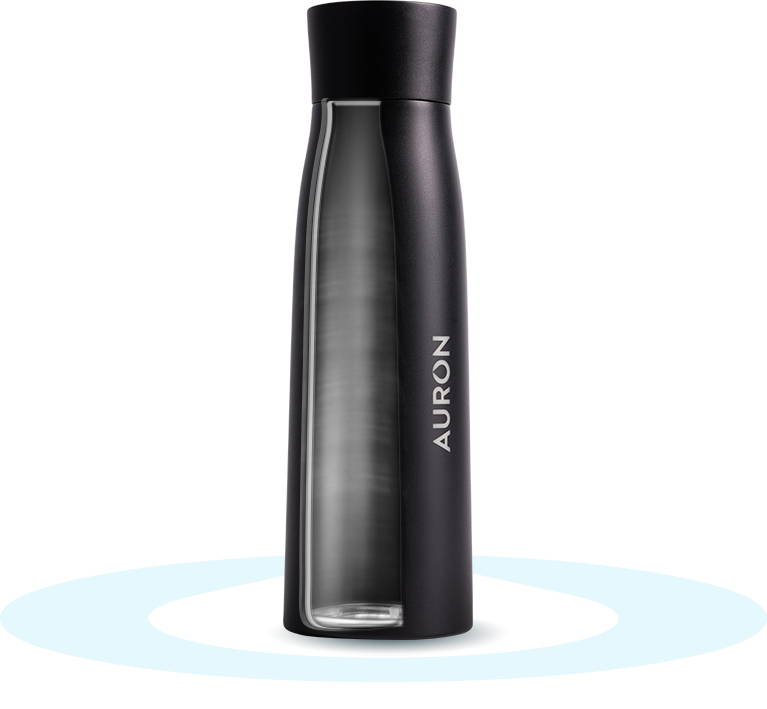 Everyone needs a reliable water bottle. So why not get one that makes the world a better place?
Everyone needs a reliable water bottle. So why not get one that makes the world a better place?
One person using Auron for just one year can on average save 315 plastic bottles per year* from ending up in the landfill. Over your lifetime, this is more than 25,000 plastic bottles and up to 20 tons of carbon emissions! By lowering your water bottle consumption, you will also protect delicate ecosystems that are being drilled for oil (to make plastic bottles) or siphoned for clean water (to fill those bottles).
*Container Recycling Institute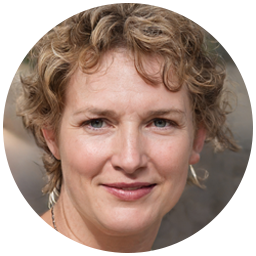 My new favorite water bottle!
Absolutely love Auron Bottle! I always forget to drink water but this smart bottle has kept me in check! Never spilled on me either. Love the sleek design and it is definitely my go-to bottle nowadays. Haven't had to think about buying plastic water bottles since owning Auron.
Annie M, Studious Accountant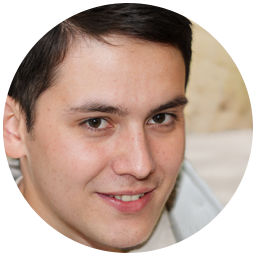 My tap water at home tastes awful but Auron finally makes drinking water enjoyable for me. I don't have to worry about bacteria in my water anymore or have that nasty metallic taste in my mouth ever again. The UV-C light does a great job at keeping the inside of my bottle clean.
John S, WFM Student
High-quality & comfortable to hold!
Bottle feels high-quality and it is comfortable to hold. The double vacuum insulation keeps my coffee hot and my drinks cold for an extended period of time. Best part is, I don't need to clean my bottle on a daily basis anymore. Because of it's self-cleaning properties, it never smells!
Janice K, Volleyball Varsity Player
Auron comes in 3 colors so you can hand-pick your favorite Auron bottle to match your personal preference.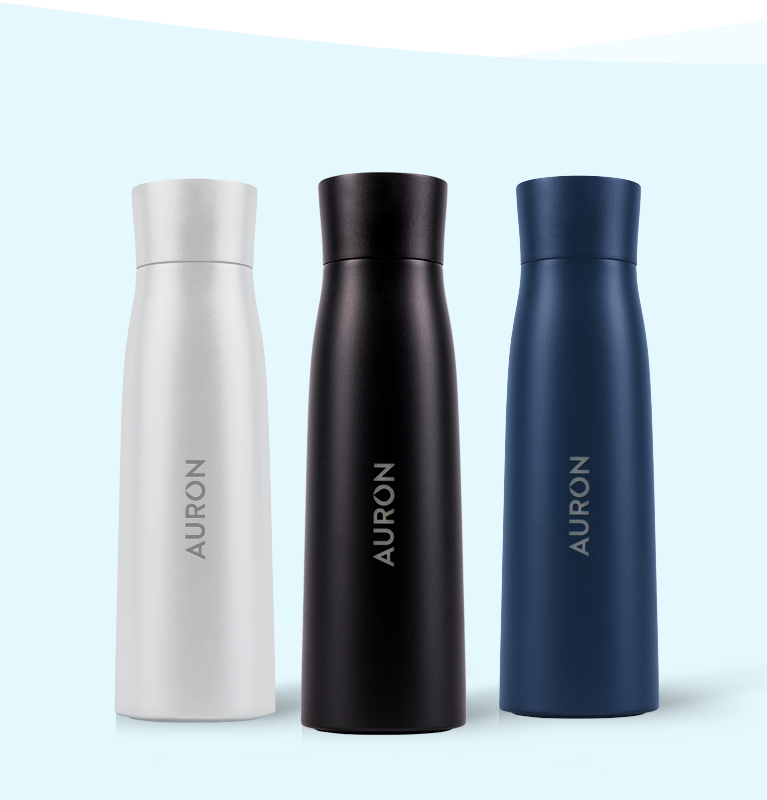 Auron comes in 3 colours so you can hand-pick your favourite Auron bottle to match your personal preference.